Regular price
$269.00 USD
Regular price
$320.00 USD
Sale price
$269.00 USD
Unit price
per
Sale
Sold out
Free delivery
Easy Returns
Men Aviator Flying Bomber Airforce RAF Brown Shearling Leather Jacket
About This Product:
Introducing the Men's Aviator Flying Bomber Leather Jacket: The Epitome of Style and Warmth

When it comes to combining timeless style with unparalleled warmth and comfort, the Men's Aviator Flying Bomber Leather Jacket in Dark Brown from SheepskinLeathers.com is a true masterpiece. This meticulously crafted jacket is designed for those who appreciate both fashion and functionality. Whether you're navigating the urban jungle or soaring to new heights, this jacket is your perfect companion.

Dark Brown Elegance:

The dark brown color of this shearling jacket exudes sophistication and a classic charm that never goes out of style. It effortlessly complements a wide range of outfits, making it a versatile addition to your wardrobe.

Belted Collar:

The belted collar of this sheepskin jacket not only adds a distinctive touch but also serves as a functional feature, allowing you to adjust the collar's fit to your preference. It's a nod to the iconic aviator jacket style that has been a symbol of adventure and bravery for decades.

Front Closure Zip:

The front closure zip ensures a secure fit and seals in warmth, protecting you from the chill of cold winds. It adds a modern touch to the jacket's timeless design, making it suitable for various occasions.

Front Two Pockets:

Functional and stylish, the two front pockets are perfect for keeping your hands warm and for storing small essentials like keys or a smartphone. They maintain the jacket's sleek profile while providing convenience.

Shearling Interior:

The real standout feature of this aviator jacket is its luxurious shearling interior. Soft, plush, and incredibly warm, shearling provides unbeatable insulation, making this jacket perfect for cold weather. It's a natural material that breathes, ensuring comfort without overheating. The shearling lining extends to the collar, adding an extra layer of warmth where you need it most.

Craftsmanship and Quality:

SheepskinLeathers.com is committed to delivering the highest quality products, and this Aviator Flying Bomber Jacket is no exception. It's crafted with precision and attention to detail, using only the finest materials and expert craftsmanship.

Versatile and Timeless:

This jacket is a timeless piece that transcends trends. Whether you're wearing it with jeans for a casual look or over a suit for a more polished ensemble, it effortlessly elevates your style. It's a statement piece that's equally at home on the city streets or in the great outdoors.

In summary, the Men's Aviator Flying Bomber Leather Jacket in Dark Brown from SheepskinLeathers.com is a true masterpiece of style, warmth, and craftsmanship. With its dark brown elegance, belted collar, front closure zip, front two pockets, and plush shearling interior, it's the ultimate expression of classic style and comfort. Elevate your wardrobe and stay cozy in the coldest weather with this exceptional jacket.
Category: Shearling
Size: XS-5XL-Custom
Color: Brown
Product Tags:
Share
View full details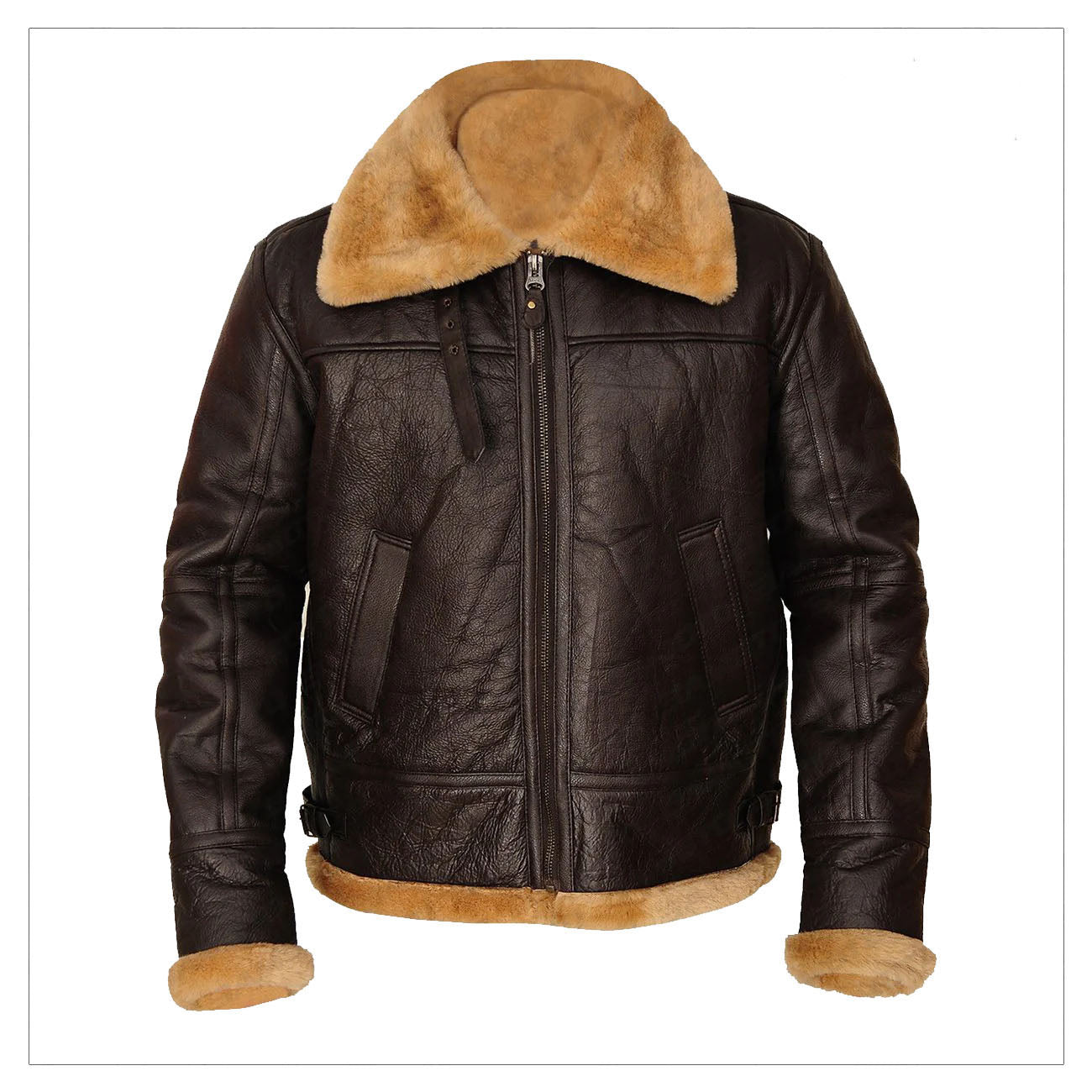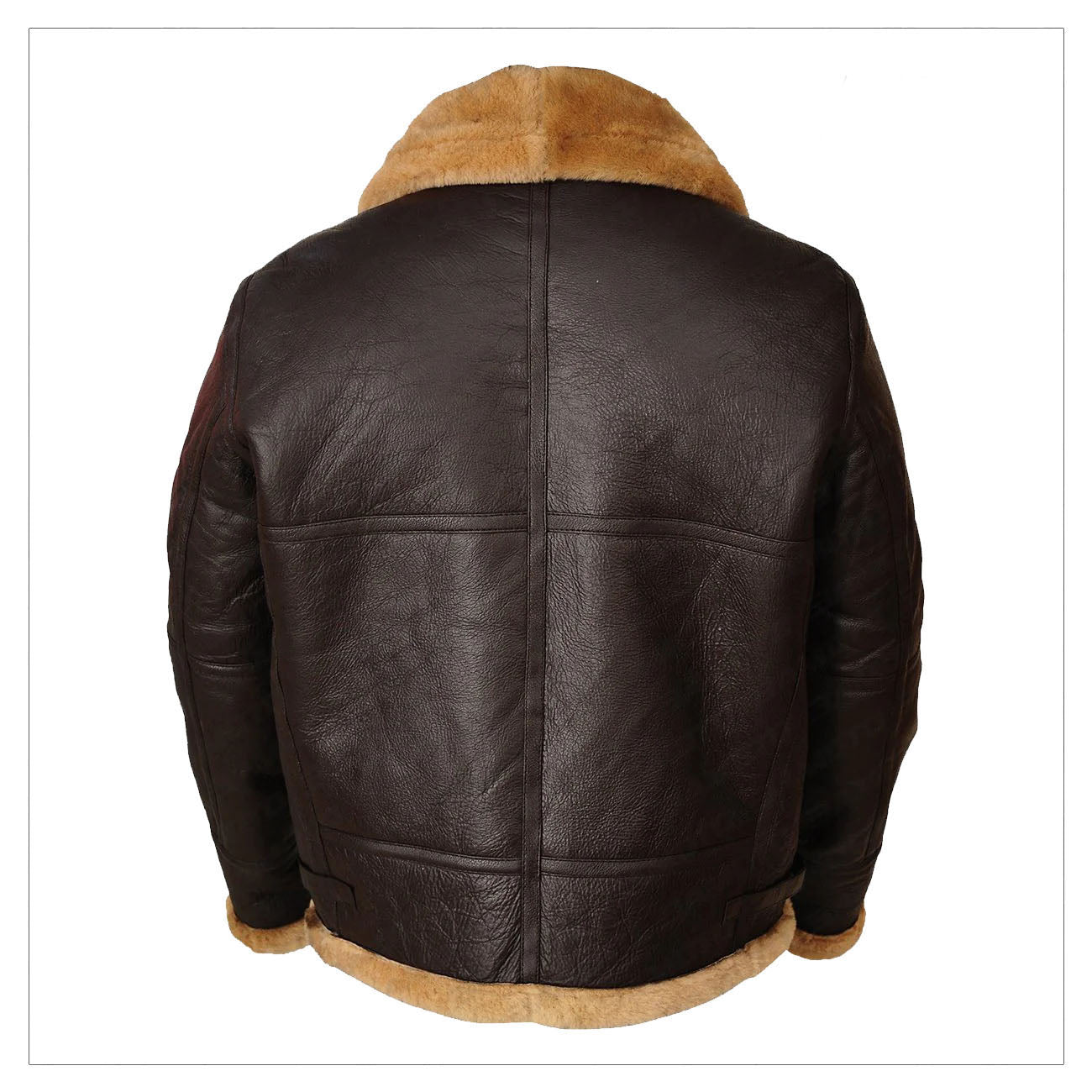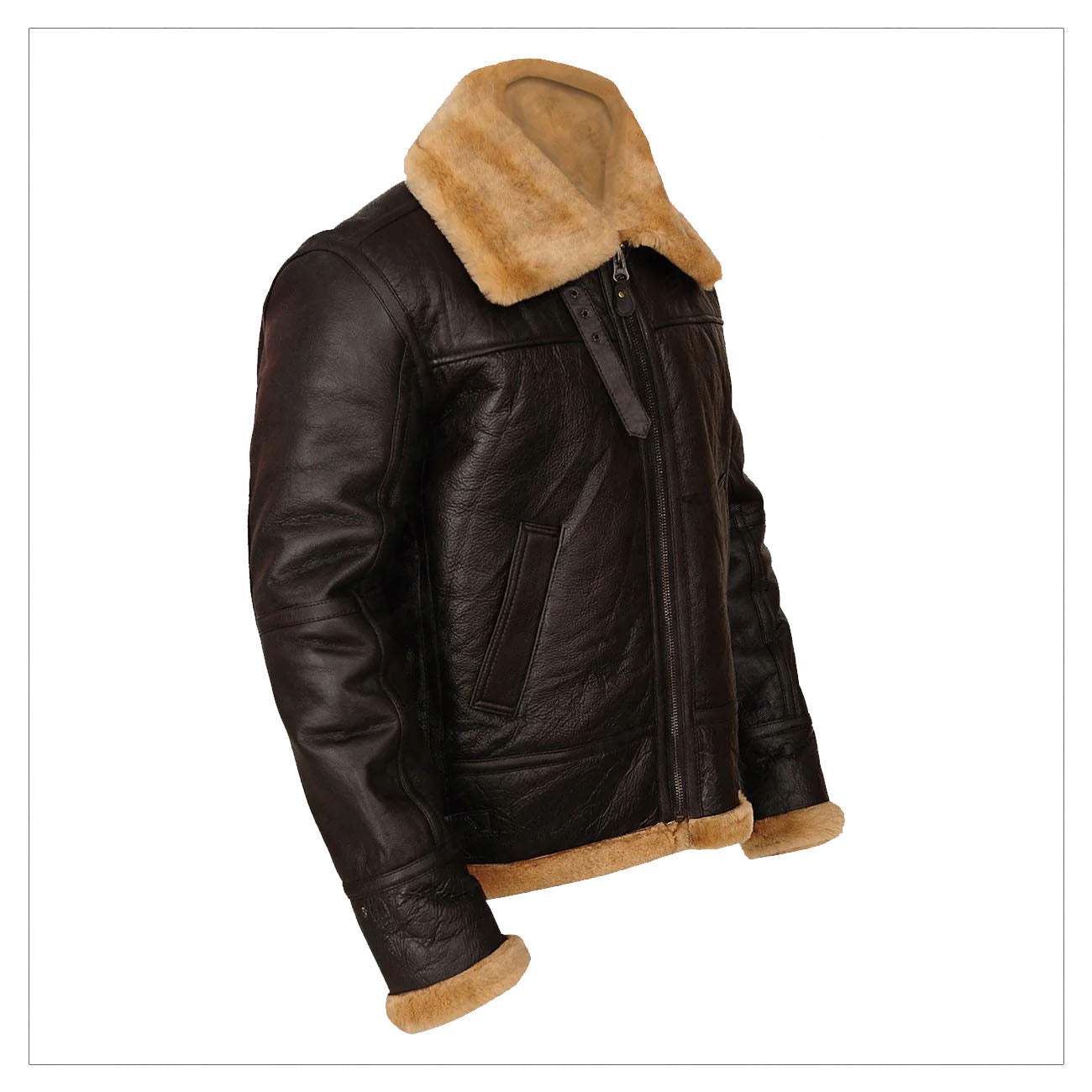 Free Shipping

Get this amazing product now. we provide worldwide free shipping using DHL service.

Hassle-Free Exchanges

We got you covered with hassle free exchanges. You can change the product if you are willing to.