Regular price
$265.00 USD
Regular price
$329.00 USD
Sale price
$265.00 USD
Unit price
per
Sale
Sold out
Free delivery
Easy Returns
Red RAF Lambskin Biker B3 Women Leather Jacket
Introducing the Red RAF Lambskin Biker B3 Women Leather Jacket

Elevate your style and embrace the edgy yet chic look with our Red RAF Lambskin Biker B3 Women Leather Jacket. Crafted with meticulous attention to detail, this jacket is designed to make a bold fashion statement while providing superior comfort and durability.

The first thing that catches the eye is the striking red color of this sheepskin jacket. Red is a vibrant and powerful hue that exudes confidence and energy, making it perfect for those who want to stand out from the crowd. Whether you're going for a casual day out or hitting the town at night, this jacket will undoubtedly turn heads and make you the center of attention.

The front closure features a sturdy zip, allowing you to effortlessly slip into this jacket and adjust the fit according to your preference. The zipper adds a touch of functionality and convenience, ensuring that you're ready to take on any adventure with ease.

Inspired by classic biker style, this biker jacket embodies the rebellious spirit and timeless appeal associated with motorcycle culture. The biker collar and asymmetrical zip closure create a sleek and stylish silhouette, while the zippered cuffs add a touch of versatility. Whether you want to keep the cuffs closed for a snug fit or unzip them for a more relaxed look, the choice is yours.

The Red RAF Lambskin Biker B3 Women Leather Jacket features three front pockets, all equipped with zippers. These pockets not only enhance the jacket's aesthetic appeal but also provide practical storage options for your essentials. You can confidently carry your belongings, such as keys, phone, or small accessories, without compromising on style.

The attention to detail is evident in the intricate stitching design on the jacket. The stitching adds a touch of sophistication and texture, enhancing the overall visual appeal of the garment. It showcases the craftsmanship and quality that goes into creating this exceptional piece, making it a true work of art.

Crafted from high-quality lambskin leather, this jacket offers unmatched comfort and durability. Lambskin leather is renowned for its softness, suppleness, and ability to age beautifully over time. It molds to your body, providing a personalized fit and ensuring that you feel comfortable while making a bold fashion statement.

In summary, the Red RAF Lambskin Biker B3 Women Leather Jacket is a must-have for fashion-forward individuals who want to make a lasting impression. With its vibrant red color, front zipper closure, biker style, zippered cuffs, three zippered pockets, and intricate stitching design, this red leather jacket is a true fashion statement. Crafted from premium lambskin leather, it offers both style and durability, making it an investment piece that will stand the test of time. Embrace your inner rebel and step into the world of high fashion with this exquisite leather jacket.
Category: Red Jacket

Color: Red
Size: XS-5XL-Custom
Product Tags:
Share
View full details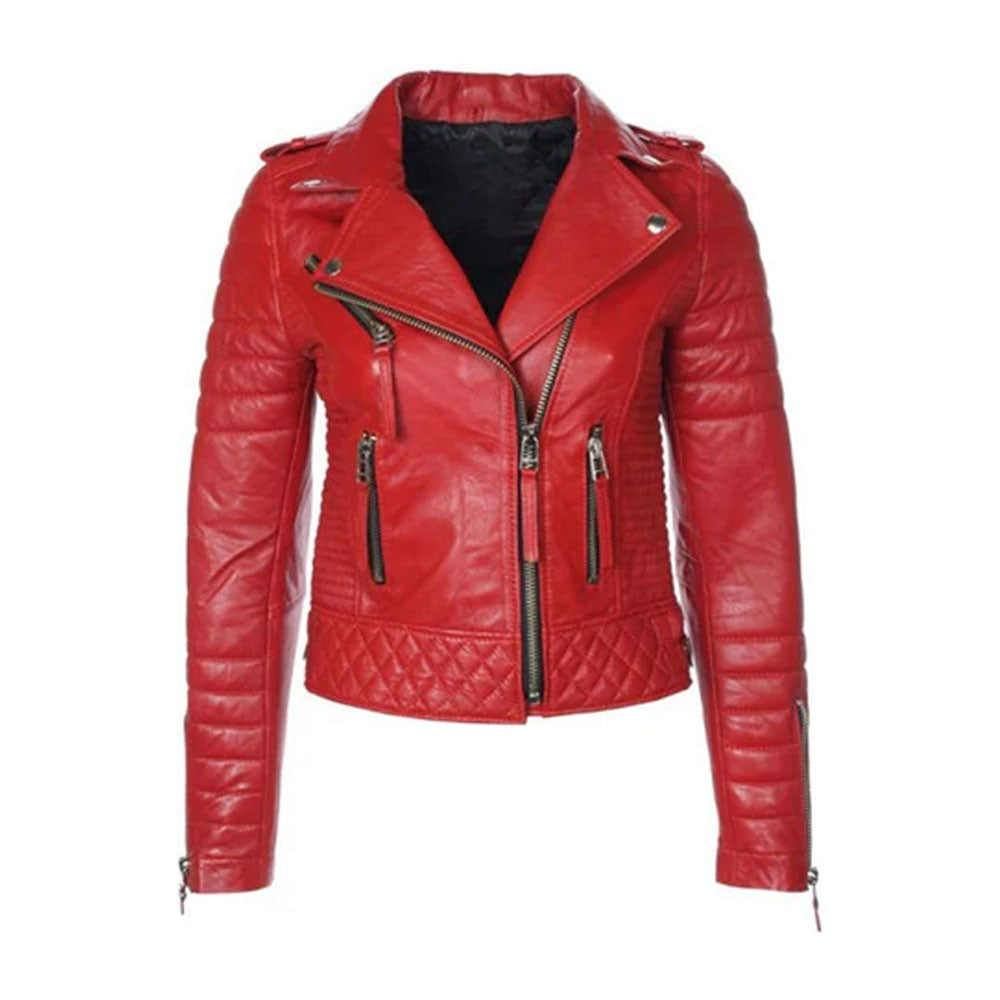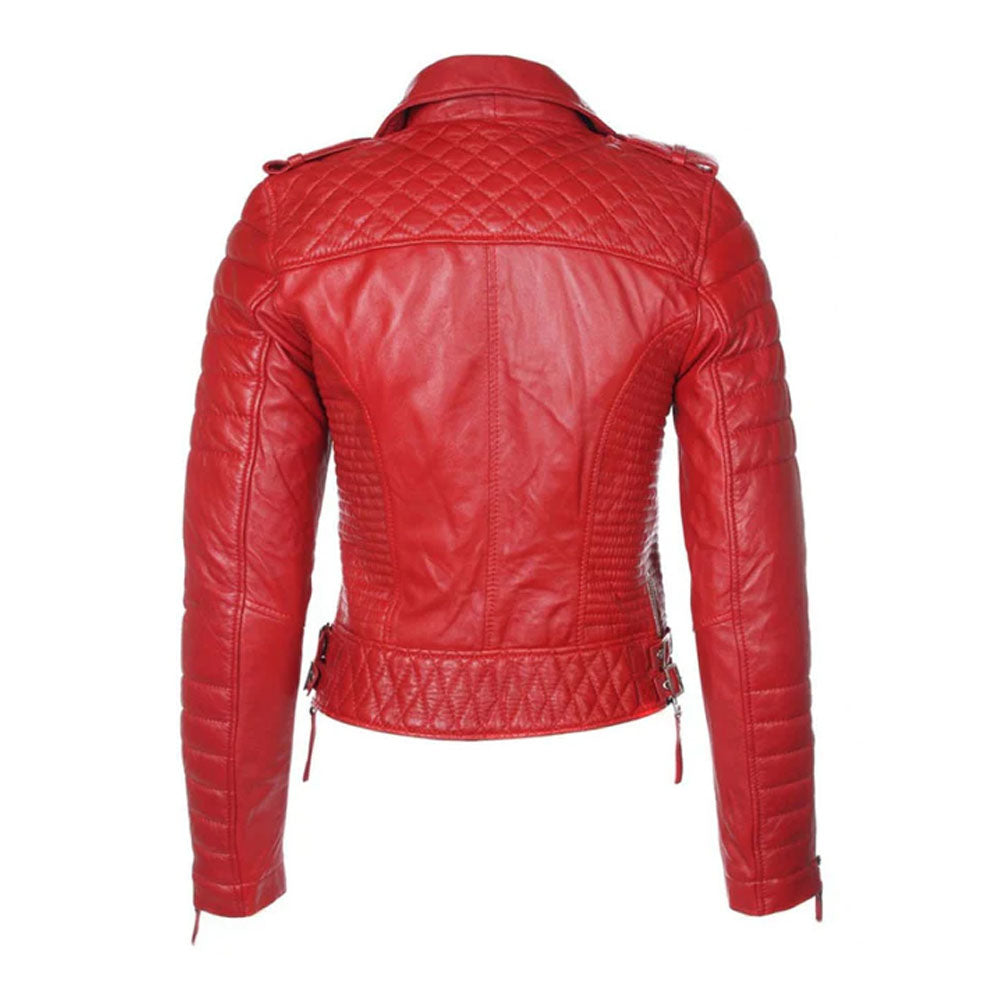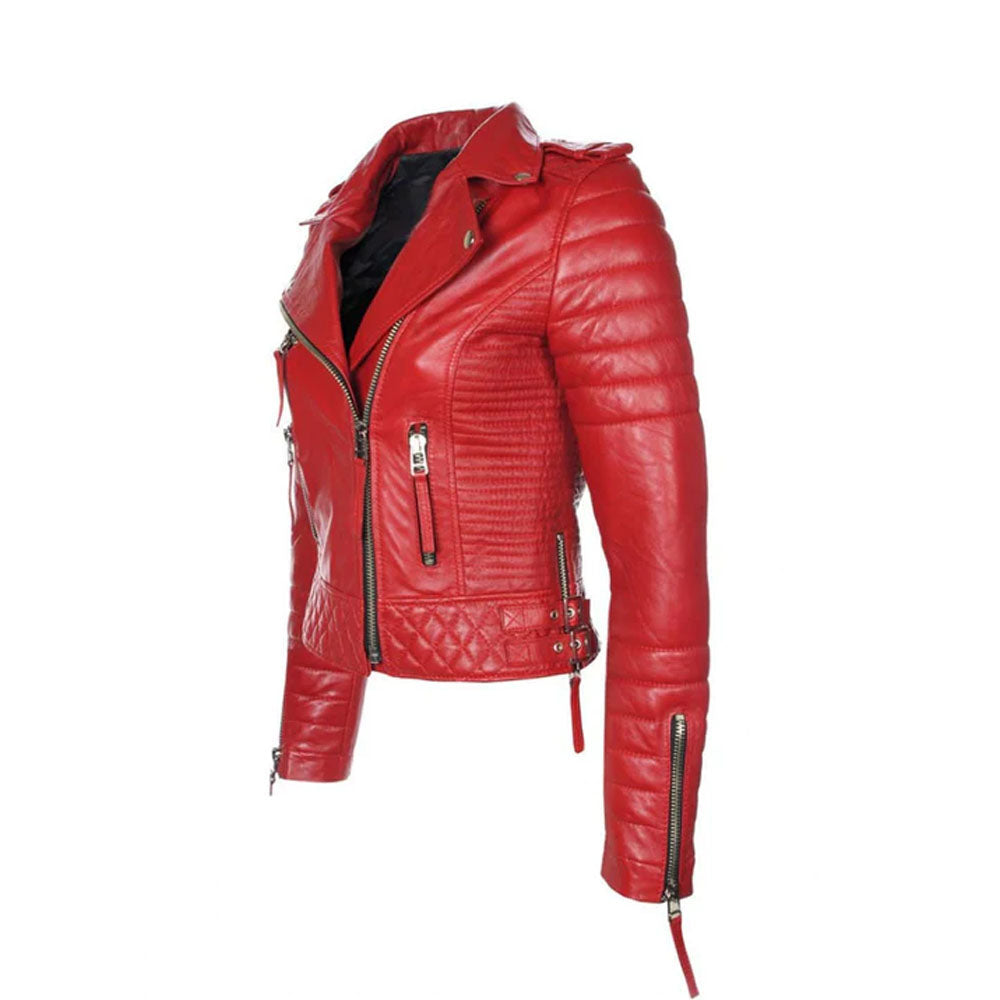 Free Shipping

Get this amazing product now. we provide worldwide free shipping using DHL service.

Hassle-Free Exchanges

We got you covered with hassle free exchanges. You can change the product if you are willing to.